Povijest

pilatesa
pilates kroz stoljeća
Pilates je najsigurnija i najučinkovitija metoda vježbanja za ZDRAVU kralježnicu. Nastao je nastao na početku 20.tog stoljeća i zvao se "CONTROLOGY". Čovjek koji ga je izmislio zvao se Joseph H. Pilates po kojem je kasnije i dobio ime i postao poznat u cijelom svijetu. Bazira se na svojim principima : DISANJE, KONTROLA POKRETA, POSTURALNA USKLAĐENOST, PRECIZNOST. Joseph Pilates je jednom rekao da je čovjek star koliko je stara i njegova kralježnica. Pilatesom do zdrave kralježnice i smanjenja bolova u leđima i zglobovima. U našem studiju možete isprobati više vrsta pilatesa kao što su:
Pilates Studio TAO možete posjetiti na tri lokacije:
Kranjčevićeva 49
Selska 119
Kaptol centar
Light

Pilates
na reformeru
Light Pilates na REFORMERU je pilates namijenjen osobama poslije pedesete godine života ili samim početnicima u svijetu pilatesa.
Posebnost ovog programa je u njegovom laganom intezitetu i posebno osmišljenim modifikacijama originalnih pilates vježbi.
Ovaj program se temelji na jačanju mišića cijelog tijela te posebno jača duboke, posturalne mišiće, čime se smanjuju bolovi u vratu, leđima i ramenima.
LIGHT REFORMER osobe preko pedeset vraćaju izgubljenu energiju i vraćaju samopouzdanje.Light REFORMER preporučamo svim početnicima pilatesa gdje će nakon svladanih osnova pilatesa i 5 osnovnih principa moći lako prijeći u težu grupu. 
Na light pilatesu koristimo preko 8 rekvizita kako bi trening bio efikasniji i zanimljiviji.
Obavezna najava na probni trening.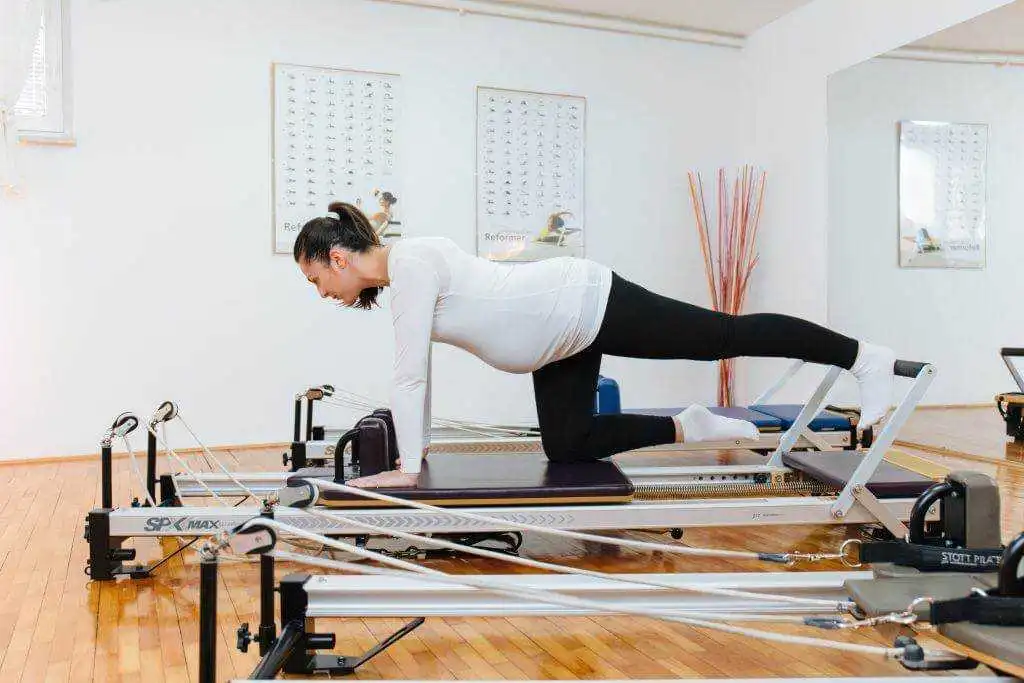 Prenatal

Pilates
pilates za trudnice
Prenatal pilates je pilates modificiran i prilagodjen vježbama za trudnice. To je najbolja i najsiguranija metoda vježbanja za vrijeme trudnoće. 
Rezultati ovog treninga očituju se lakšem porodu, ugodnoj trudnoći i boljem i bržem oporavku nakon trudnoće.
Vježbajući pilates u trudnoći naučiti će Vas pravilno disati , bolje se opustiti , bit ćete fleksibilniji i poboljšati ćete cirkulaciju. Prenatal 
Pilates možete vježbati i na REFORMERU, sat na Reformeru je individualan ili poluindividualan.
Prenatal Pilates se održava na matu (grupi) utorak i četvrtak u 17:15 na lokaciji GOTALOVEČKA 2. 
Trening traje 45 min.
Treninge vodi prof.kinez i Pilates Instructor Lana Plahutar
Progressive

Pilates
metoda
Dinamičan oblik pilatesa Nadogradnja je STOTT-ove škole pilatesa, ali svojim izvornim vježbama i načinom primjene rekvizita, povećavajući intenzitet i dinamiku postaje svojevrsna progresija osnovnom Pilatesu iz čega proizlazi i sam naziv . 
Jačeg je intenziteta te pogoduje smanjenju potkožnog masnog tkiva Povećan je udio snage površinskih mišića, a time i tonus ukupne muskulature . 
Povećan je udio vježbi istezanja na početku i na kraju sata. Ne kosi se sa osnovnim postulatima Pilatesa nego nadopunjuje samu metodu: fluidnost…kontrola…preciznost…centriranje…  
U svim djelovima sata poštuje osnovne principe Pilatesa: neutralnost kralježnice, neutralnost zdjelice, disanje, stabilizacija lopatica, položaj glave i zglobova. 
U Progressive pilatesu koristimo 8 različitih rekvizita i takav trening postaje još dinamičniji, funkcionalniji i zanimljiviji. Ovakav trening se preporuča svim dobnim skupinama, svima koji žele povećati svoju tjelesnu kondiciju, koji vole maštovit i temeljit pristup treningu.
What is the biggest benefit your customer will get from this? Keep your target audience in mind.
TRX je rekvizit koji omogućuje izvodjenje velikih broja funkcionalnih vježbi. U Studiu Tao smo osmislili program TRX PILATES u kojem smo ujedinili funkcionalnost TRX-a i pilates vježbi.
Vježbama ćete razviti izdržljivost, fleksibilnost, stabilnost trbušnih i leđnih mišića ( CORE-a) i mišića zdjelice. Sve je to važno za stabilizaciju trupa, ravnotežu i agilnost. Preporuča se intermediate i advanced vježbačima, koji su u nekom trenažnom procesu i bez većih ozljeda.